Vehicle Tracking – Fleet Tracking
Vehicle tracking, or fleet tracking, connects the location of your vehicles with software that collects fleet data. This fleet management solution shows precisely the time spent behind the wheel and when, where and how your fleet is utilised.
TomTom's vehicle tracking and fleet tracking solutions deliver the real-time location of every vehicle in your fleet. This allows you to adapt quickly to new developments and make smart, informed decisions. Our vehicle tracking system tells you which employee is closest to any new assignment as well as giving you instant access to important vehicle information and driving behaviour information such as speeding or harsh breaking. Vehicle tracking can save you money and make your business more efficient.
 Real-Time Vehicle Tracking
Whether your drivers are parked or on the move, get their precise, mapped location with WEBFLEET. This can help with proof of delivery and allows you to monitor working-time guidelines compliance.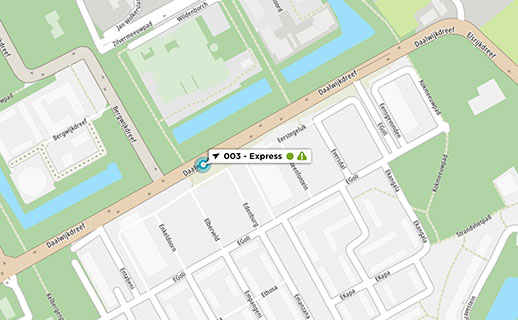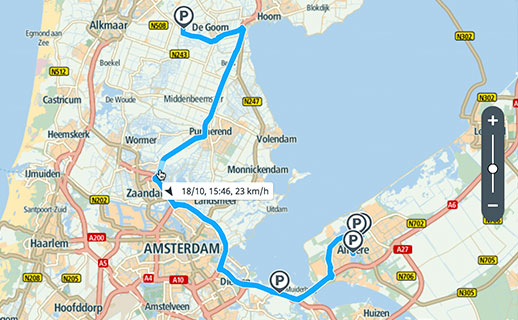 Informative Tracking And Tracing
Identify where to make savings by tracing previous trips. Our vehicle tracking system accurately records hours worked or hours spent behind the wheel and remembers where each vehicle in your fleet has been for up to 90 days in the past. This feature of the vehicle tracking and fleet tracking system provides an instant overview of vehicle movements, highlighting anomalies and exposing patterns in your business.
Dashboard
KPI's at a Glance
WEBFLEET gives you instant access to the KPIs that help you optimise your fleet in real-time. Service, productivity and fuel indicators can all be configured to your exact needs, enabling you to spot trends, benchmark your performance and identify areas for improvement.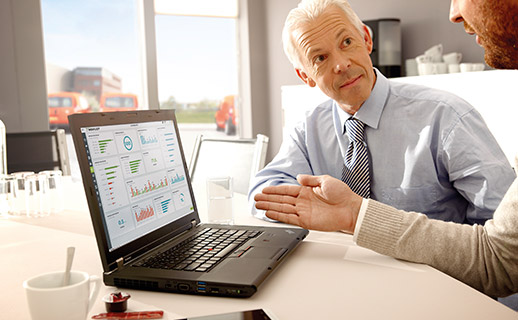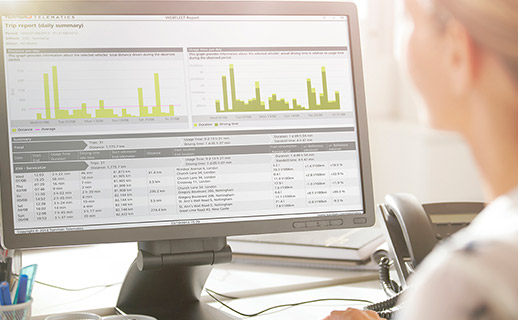 Reporting
Get Insights
WEBFLEET's rich reporting capabilities enable you to optimise the performance of your fleet. They include the industry's most comprehensive set of ready-made reports, providing detailed insights into the activities of individuals and the fleet. Customised reports let you highlight the exact information your business needs – when you need it. And reports can be scheduled to run automatically or can be downloaded on demand.
Notifications
Be informed instantly
When order status changes, or when vehicles need maintenance or cross predefined geo-zones, WEBFLEET delivers instant notifications to your dashboard.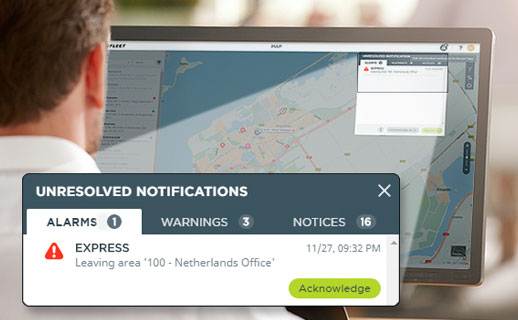 WORKFLOW MANAGEMENT SYSTEMS WEBFLEET
Connect our WEBFLEET solution with a TomTom PRO Driver Terminal and get all the valuable information you need about your orders and drivers. Our transportation management system supports seamless communication with your team in the field and helps you to streamline your workflow management. The net result? Happier customers and more jobs done
Dynamic Order Dispatch & Management
WEBFLEET helps you identify the driver best suited for each job using smart scheduling and dispatch with award-winning TomTom Traffic, order status and vehicle status.
The Order Optimisation feature** optimises your sequence of visits in one click, with the aim of reducing mileage and time spent on the road. This all helps you to plan better, get more orders done and improve on-site services.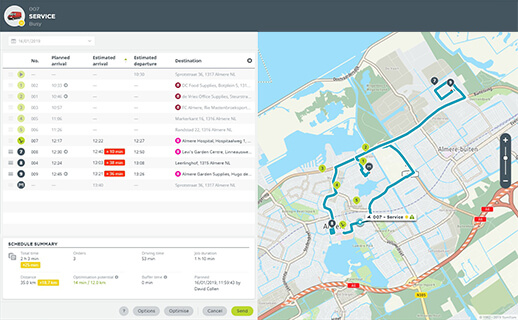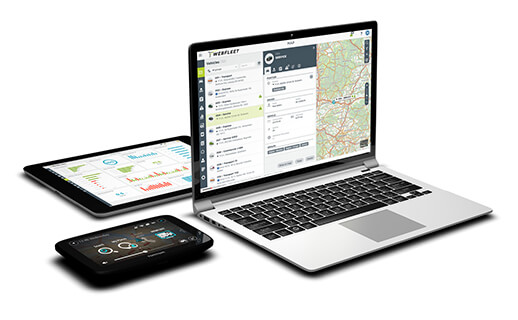 Seamless Communication
Simplify your order workflow and save time by sending jobs and order instructions straight from your office to your driver's TomTom PRO Driver Terminal. The terminal reads the message aloud to avoid distracting the driver.
You stay connected with your team in the field, getting regular updates on order status and ETAs, so you can react dynamically to unexpected events.
Best-In-Class ETAs
WEBFLEET enables you to to give more accurate ETAs to your customers based on TomTom's award-winning traffic information.
Professional navigation uses a complex network of live traffic data and advanced algorithms to help your drivers avoid traffic. That means they're more likely to get to the job on time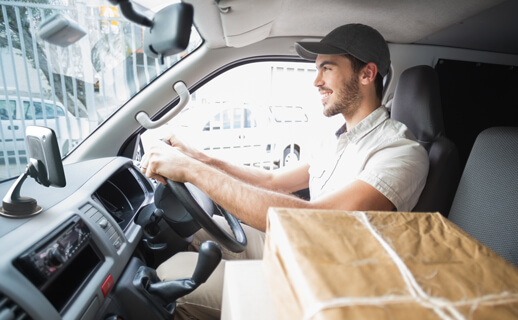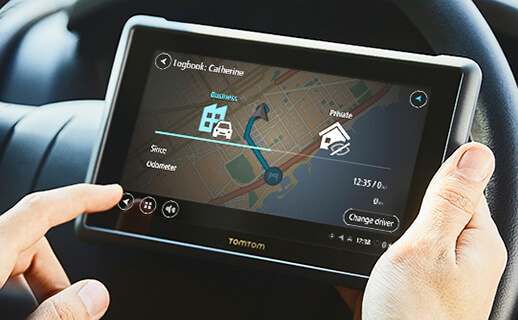 Automated Workflow Management Processes & Reporting
By taking distracting, time-consuming manual tasks off your plate, WEBFLEET supports a more efficient, time effective operation with workflow management automation. Logbook with real-time vehicle odometer and working time registration are both automated, supporting more accurate reporting and lessening the administrative burden.
Meanwhile, you get job-by-job insight with accurate time spent with clients and automated invoices, which can speed up billing and make disputes less likely.
Everything You Need To Control Cost
WEBFLEET comes with a range of features to help decrease your vehicle's total cost of ownership, using rich data from vehicle integration.
As well as receiving regular maintenance schedule alerts, you're automatically notified when a vehicle shows sign of malfunction. This way, you can plan maintenance before a costly breakdown occurs. You can also monitor fuel consumption to identify abnormal usage or identify areas where driving style can be improved to reduce insurance premiums.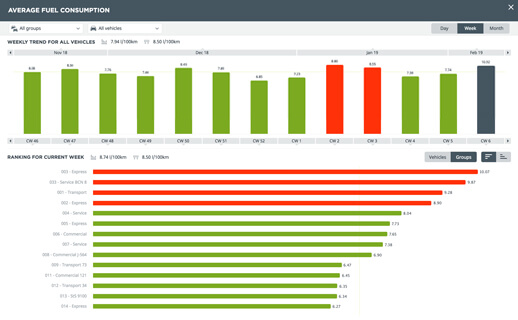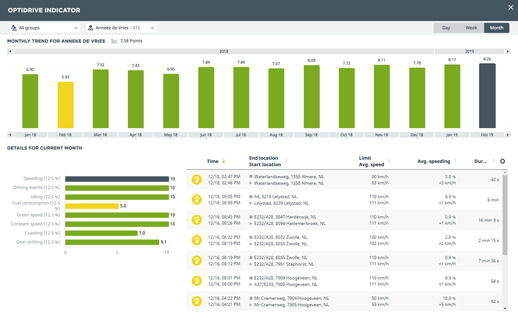 Driver Behaviour Feedback & Analysis
By offering analysis on driver behaviour with OptiDrive score, WEBFLEET gives you the information you need to optimise your driver's performance in the field.
Active driver feedback and advice is displayed on the TomTom PRO Driver Terminal in a way that won't disturb your drivers. This helps them remain safe and reliable on the road, maintaining a good reputation for your business.
Business Operation at-a Glance
WEBFLEET is constantly providing data to help you improve your business processes.
With accurate information on time spent on location, order status, trip information, working times and driver performance, amongst many other facts and figures, you can clearly judge what areas of your operation need to be developed.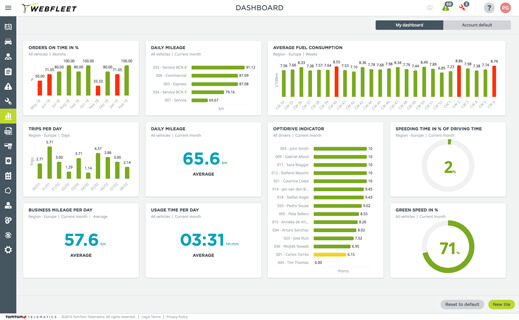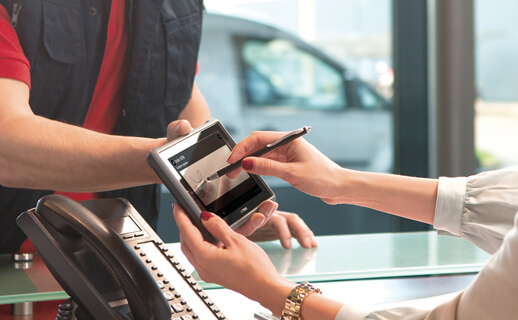 Customise & Integrate
You can easily integrate other business applications with WEBFLEET to get exactly the solution you need. For example, synchronise with CRM and billing systems to give you a more complete view of essential data and reduce administration work.
Using the TomTom PRO 8275 Driver Terminal, you can customise workflow management further. This device handles activities like vehicle checks and delivery data capture via barcode scanning and digital signature in combination with 3rd party applications. All of your data is then stored in one system.
Help To Improve Driving Behaviour
In order to help drivers improve their driving style we developed OptiDrive 360. We offer one of the most complete approaches to continously improve your fleet's driving performance.
OptiDrive 360 allows your teams to Learn, Get Coached, Evaluate and Compare on a wide set of driving performance indicators.
Drivers get direct feedback and predictive driving advice while driving and WEBFLEET clearly presents the savings potential to the fleet manager.
See how WEBFLEET helps you improve you fleet's driving behaviour.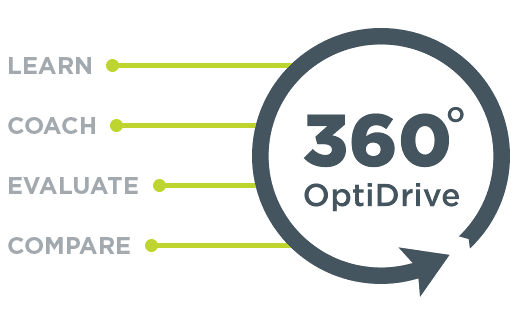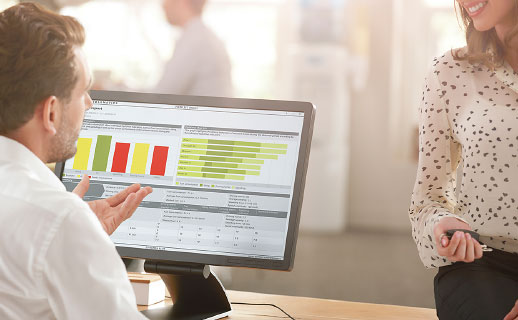 Monitor Fuel Usage & Carbon Emission
Get real-time and historical insight into your fleet's fuel consumption and emissions. Spot trends or anomalies with the fuel efficiency dashboard and compare performance over time with fuel and carbon reporting.
Our LINK in-car devices retrieve the information from the vehicle and present it in WEBFLEET. Whether you have passenger cars, LCV's or HGV's, we have a reliable solution for you.
Keep Your Vehicles Well-Maintained
Know your vehicles are well maintained. With WEBFLEET vehicle maintenance you'll be notified if a vehicle has diagnostic troubles. And you can plan maintenance tasks based on real-time mileage information.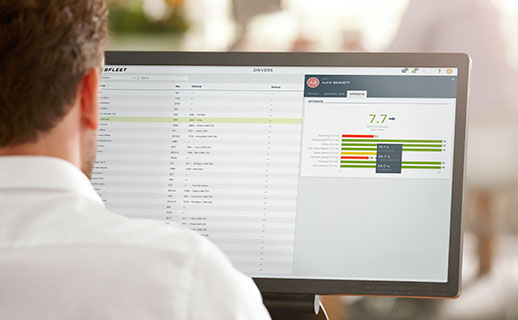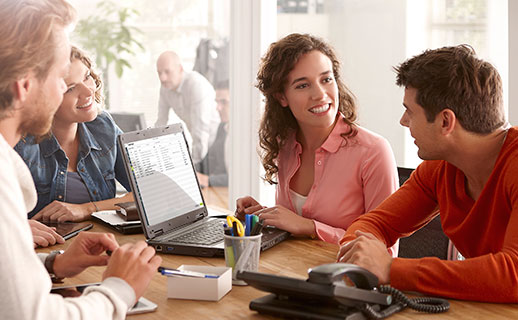 Office Solutions
Use WEBFLEET.connect to enrich your back-office systems with useful data from the road about your vehicles, jobs and workforce, including arrival times, working hours, mileage and more. Our Software and Hardware Alliance Partners offer off-the-shelf integration with dozens of your applications.
In-Vehicle Solutions
We connect your vehicles to your office. And since we already established this connection we want to enable you to connect other devices to your back-office using LINK.connect. Allow 3rd party hardware to talk to your LINK tracking device via Bluetooth to capture additional data from in and around the vehicle, such as temperature sensors, tyre pressure, barcode scanning and RFID.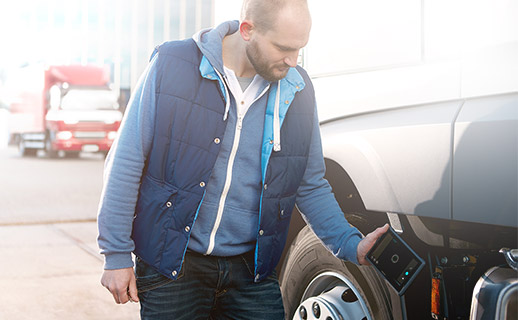 PROFESSIONAL NAVIGATION & TRAFFIC AVOIDANCE
Extremely Accurate Traffic Info
Drivers can rely on TomTom Traffic* that is so accurate that drivers can be alerted to tail jams which prevent braking suddenly. More likely they will avoid traffic completely thanks to TomTom's trillions of data points collected from hundreds of millions of connected devices which are used with live traffic views to accurately predict and help avoid traffic.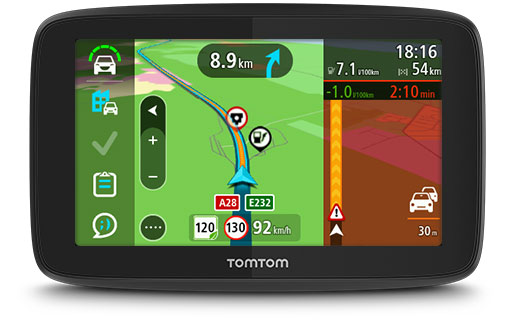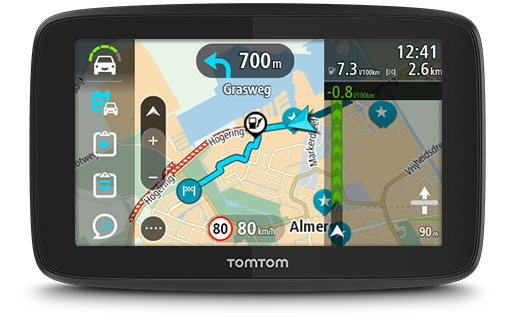 No Delay From Closed Roads
Avoid congestion and never get stuck in traffic with our TomTom driver terminals. Even closed roads are no longer an issue as our devices recognise the closure and plan around it, even when vehicles are forced into certain roads.
Fastest Routes
TomTom's navigation technology is equipped with a database of real driving times to calculate the fastest route, whenever and wherever you go. Besides the actual traffic, it factors in the traffic lights, roundabouts and other road obstacles.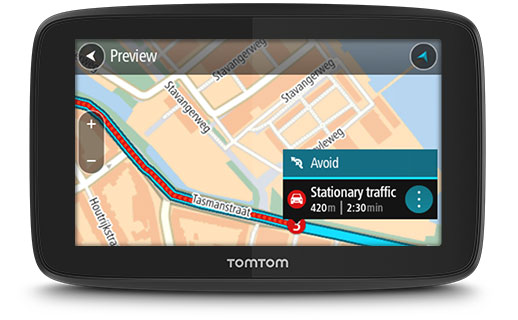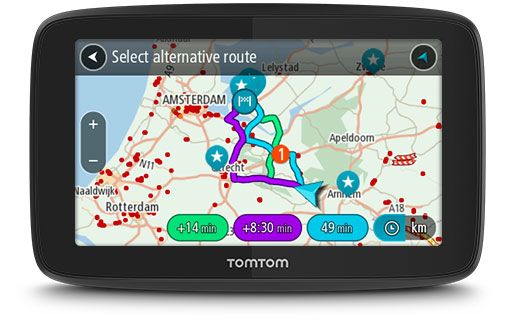 Less Time On The Road
Using TomTom, your workforce can spend less time on the road, and more time with customers and provide realistic ETAs. Your drivers will be able to impress customers with their reliability while wasting less time and fuel on each journey. And their increased productivity will have a direct impact on your revenue.